March 20, 1998 (issue #79)
Crush On Aaron : Young gun Aaron Carter sends the other half of the population into a screaming fit. Nina Ti checks out the frenzy

Girls were screaming. Girls were crying. Girls were turning ugly. They were waving and pleading, "I love you, Aaron! Please don't go!"
As the young girls pushed and bounced for a better spot, barricades began to stagger under the combined teenage weight. The throng resembled a flock of spring chickens served corn for the first time. What we had here was the exciting, screaming-fit, flushes of first love. And to be perfectly honest, it began to look quite bizarre. The uncommonly rambunctious ladies held up eye-love-u placards, threw teddy bears (not panties, phew!), and struggled to keep their voices from tearing.
All this excitement for a cute, blonde, ten-year-old called Aaron Carter.
Aaron, who levels out at 4'5", popped into Malaysia recently as part of a tour to promote his debut album. The album contains 13 tracks and features a mixture of new songs produced by famous producer Gary Carolla.
He's very young -- but let's not make that an issue -- and is the youngest brother of Nick Carter, of Backstreet Boys -- but really, let's not make that an issue.
During a special live performance at a mall in Kuala Lumpur, Aaron danced and sang his way into the hearts of girls old enough to be his babysitters (enough, already). His blonde, pin-straight hair had a habit of falling into his eyes, and the way he flicked it just sent more screaming into the air.
It was mad. It was unreal. It was love at first sight.
This spunky fellow can hold his own, despite his tender age (damn it!). His amazing first single Crush On You was released last year, and shot straight into stardom heaven. His single is now in the Top 10 throughout Europe, and despite the huge success, this dynamic tyke has not gone easy on his amazing output of bopping melodies.
During the special live performance at a mall in Kuala Lumpur, Aaron dazzled the crowd with some very slick routines. He jumped, he sang, he did a handstand while holding the mike. With as much energy as a Mexican jumping bean, Aaron is the kind of kid who can never stay down.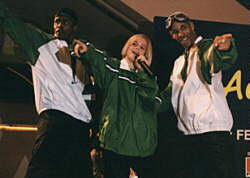 An interesting fact about Aaron is that he has a twin sister. They were born on 7 December 1987, Aaron being the younger by a minute.
He had an early start in music, and his life at home evolves around the evasion of groupies. No thanks to his very well known brother, Nick.
At the age of seven, Aaron formed a band with three of his classmates from Rock School in Tampa, Florida. The boys named themselves 'Dead End'. They played in places like the local library, and various coffeehouses around town.
When the group split up in 1996, Aaron began to really concentrate on perfecting his craft. It was during a special appearance at a Backstreet Boys concert in March 1997 that sealed his fate. A record executive from Germany was so impressed by what he saw that he wanted to sign Aaron on the spot.
Looks like he's really proving his worth.
[The girls watching Aaron Carter perform -- at a shopping mall in downtown Kuala Lumpur -- became such security threats that Carter had to be whisked off before the autograph/photographing session. Afterwards, the dismay was frighteningly audible. Malaysian girls are growing up to be..... monsters, the whole lot]