more pictures below ...
December, 1998
HER WORLD / By TI LIAN LIN
Of Dragons And Eagles
---
continued from
http://members.tripod.com/~Kerg/herworld/shannonlee2.html
---
Is Shannon anxious about being shortlisted as the final victim?
"I am convinced that none of it is true," Shannon exclaims vehemently, as her mood and her cordiality thins. "My mom taught me never to heed those stories. It's awful what people are saying about the curse, but apparently they believe that it explains what happened and since rumours are more enticing than facts, I totally understand why you would say that."
Shannon may sound as if she has little idea of how gossips can run the gamut, but second thoughts are best. There is measure in all things, and growing up surrounded by the aura of the English-speaking world's only known Chinese star forces one to feel doubly martyred. If anything, Shannon has learnt that the world is a place of opinion - she's constantly reminded of her surname. In film and in fights, no one was faster or more adept than her father - his skills helped to fuel those expectations.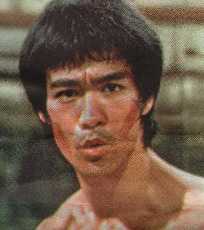 Although her childhood memories mostly swim in and out of focus, Shannon's mom has told her a lot about Bruce Lee, not the Herculean actor but the man. She relates her favourite story about her father: "We used to live in a big highrise apartment which had a balcony with bars. Once I pushed my head through the bars and got stuck. So my dad, being the big strong man that he was, tried to pull the bars apart but it was useless.
He ended up pouring oil all over my head and greasing me up. And got me unstuck. Bruce Lee saved me - with his ingenuity."
What's interesting is that Bruce Lee also saved her from becoming totally Americanised. Although he died when she was four, his instructions to have her attend Chinese school lingered for years. "I went to a language class on the weekends," she recalls, "It made me uncomfortable being around all these children who could speak perfect Chinese."
Can she speak Chinese now? "Not a word," she giggles apologetically, adding that it's the same reason why Shannon's fighting-machine character maintains an English dialogue throughout the movie.
Her mom, now the remarried Linda Lee Cadwell of Boise, Idaho, has remained active in keeping the spirit of her late husband alive, being very much involved in film production and guiding her daughter's budding career. Linda consulted on the 1993 film Dragon: The Bruce Lee Story, which was critically well-received but a commercial disappointment, and on a series of books and tapes exploring Lee's philosophy in cooperation with the historian Little. In addition, Shannon, her mom, and others have formed a non-profit group called The Jun Fan Jeet Kune Do Organisation, or simply The Nucleus.
What's interesting is that many of Bruce Lee's friends have opted to stay away from this new organisation. Long-time family acquaintance and JKD exponent Dan Inosanto, for example, refuses to have anything to do with it. Shannon just shrugs and says: "We're still in good talks with Dan. A lot. But what all of us realise that he has his own organisation which is so large. I suppose it was difficult for him, at the time, to just suddenly change everything and follow our path."
When pressed, Shannon denies the much-reported souring of ties between the two camps: "It's not like there's a big rivalry going on or anything like that. Dan was originally part of our group, and I believe that he thinks the Nucleus is doing just fine."
A PAINED CHILD
Halfway through the interview, Shannon blurts out that she's "outgrown the touchy teenager" she once was. During those early years, she often wrote emotional denials to magazines and to people who made up stories about her family. Then one day she decided to put a stop to it. "I realised I was spending all of my time writing these letters and not leading my life," she reveals. "Now I pay no mind to it; if I think it's particularly injurious then I might have some response to the person. For the most part I just let it go."
She didn't let go soon enough. A cursory look at Shannon's progress in film reveals a smattering of lesser roles, and even less accolades for training prowess. Where has she been all these years? Other than battling misconceptions, her real interest apparently went to music. An accomplished soprano, Shannon earned a degree in vocal performance at 22 after deciding that a career in self-defence was uninspiring. She has appeared in numerous musicals, operas and choral concerts in the States, while hoping for that one big break in acting.
Standing faithfully by her side is her husband of four years, art dealer Ian Keasler. "He understands me and is very supportive," she says of her former college sweetheart. Happily settled, Shannon is eager to have a growing family but only "when the time is right", and devotes most of her free time adjusting to the world of Hongkong celebrity.
Success has opened other doors too. She is keen to put her education to good use - "I am hoping for a future with an album, perhaps" - and at the same time is ecstatic that Golden Harvest (a major production studio) has offered her a second movie option in less than a year, yet unnamed.
Before that unfolds, Shannon's celluloid journey takes her back to the States, where she dons spiffy leather gear to bust crooks and gangsters in Stanley Tong's Martial Law, a television show starring Wing Chun extraordinaire Samo Hung.
"My father's old students were always around, and so back home I was always encouraged by martial arts," she admits. "But it took me some effort just to equip myself physically. It wasn't until the last couple of years that I really started studying wushu, kungfu and Jeet Kune Do."
The demands of work and a rushed training schedule mean Shannon has had a somewhat sedulous existence, which has lightened only slightly with the fun she's having being an action star. Lee is happy with the intensity: "I've been so well-received here in Asia, and it's amazing because like I said before, everyone treats me like family."